Landscape Maintenance
Whether you are a homeowner looking for mowing and chemical services or a commercial property owner / manager looking for a superior full-service lawn and landscape company for your property, contact Artistic Design Landscapes today. Our commitment to excellence is our number one Goal!
We know that every property is different and every property needs to be treated differently. We do not believe we can produce the results that you are looking for by creating a "cookie cutter" program (one size fits all approach), so the first step in having a great looking and healthy property is performing a soil analysis. This analysis tells us what nutrients your property needs and what your property has a surplus of. We then customize a program specifically for your property to maximize results.
Click on the images below to view a larger display.
Photo 1

Photo 2

Photo 3

Photo 4

Photo 5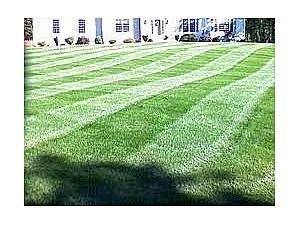 Photo 1
Here is a look at our full-service program month-to-month. (This is a general list and would be customized to fit each and every property with your property needs and client desires in mind)
MARCH

Soil analysis – take soil samples of the entire property and have analyzed by a lab to see what nutrients you property has too much of and what nutrients your property needs!
Spring Clean-up

Clean out landscape beds

Cut down ornamental grasses (if this has not been done in the fall)
Complete leaf clean-up

Landscape bed pre-emergent chemical application
Hardwood mulch install: tree and landscape beds
Mow all turf areas
Round #1 turf chemical application

Pre-emergent and turf fertilizer
APRIL

Irrigation system turn – on and adjust all sprinkler heads and control box to maximize system efficiency
Landscape Bed weed control
Crack and crevice chemical spray, as needed (includes parking lots for commercial clients)
Mow all turf areas weekly
Round #2 turf chemical application

Broadleaf Weed control and turf fertilizer
MAY

Irrigation system check
Trim all shrubs on property
Install seasonal color (summer color – various annuals)

Remove prior seasons color
Install Soil amendments and prepare bed for current seasonal color

Landscape bed weed control
Crack and crevice chemical spray, as needed
Mow all turf areas weekly
Round #3 turf chemical application

Pre-emergent and turf fertilizer
JUNE

Irrigation system check
Seasonal color maintenance

Weed and remove old flowers
Fertilize

Landscape bed weed control
Crack and Crevice chemical spray, as needed>
Mow all turf areas weekly
JULY

Irrigation system check
Seasonal Color maintenance

Weed and remove old flowers
Fertilize

Landscape bed weed control
Crack and crevice chemical spray, as needed
Mow all turf areas weekly
Round #4 turf chemical application

Turf Fertilizer
Grub and insect control
AUGUST

Irrigation system check
Seasonal Color maintenance

Weed and remove old flowers
Fertilize

Landscape bed weed control
Crack and crevice chemical spray, as needed
Mow all turf areas weekly
SEPTEMBER

Irrigation system check
Seasonal color maintenance
Trim Shrubs
Prune coniferous shrubs (if applicable)
Trim Trees, top off Crape Myrtles
Core Aeration
Fall Turf Renovation – Slit seed
Landscape bed weed control
Crack and crevice chemical spray, as needed
Mow all turf areas weekly (as needed)
Round #5 turf chemical application

Fertilize with starter fertilizer and turf builder for the new seed
OCTOBER

Irrigation system check
Seasonal color installation (mums, pansies)

Remove prior seasons color
Install soil amendments and prepare bed for new seasons color

Landscape bed weed control
Crack and crevice chemical spray, as needed
Mow all turf areas weekly (as needed)
NOVEMBER

Irrigation system winterization (can be done in October – November, depending on weather)
Install Seasonal Color (bulbs)

Remove prior seasons color
Install soil amendments and prepare bed for new seasons color

Leaf Removal
Landscape bed weed control
Crack and crevice chemical spray, as needed
Mow all turf areas weekly as needed
Round #6 turf chemical application

Turf winterizer – A high rate of nitrogen fertilizer
We Provide Services to the Following Cities, Towns and surrounding areas in NC:
Lenoir, NC
Hudson, NC
Sawmills, NC
Granite Falls, NC
Hickory, NC
Taylorsville, NC
Morganton, NC
Valdese, NC
St Stephens, NC
Conover, NC
Newton, NC
Hiddenites, NC